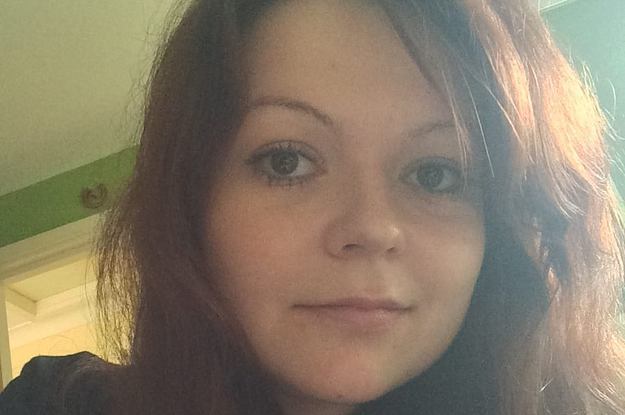 "At the moment I do not wish to avail myself of their service," she said in a statement published on Wednesday. Russia's UK embassy has cast doubt on the authenticity of the statement.

[tracker]
The daughter of former Russian spy Sergei Skripal, who was poisoned along with her father with a deadly nerve agent in the UK last month, has rejected help from Moscow's embassy in London.
Yulia Skripal, 33, made the comments in a statement released through the Metropolitan Police on Wednesday, two days after she was discharged from hospital.
"I have access to friends and family, and I have been made aware of my specific contacts at the Russian Embassy who have kindly offered me their assistance in any way they can. At the moment I do not wish to avail myself of their services, but, if I change my mind I know how to contact them," she said.
She added that her father remains "seriously ill", and that she is suffering from the attack. She is in the care of "trained officers" who are taking her through the investigative process.
"I find myself in a totally different life than the ordinary one I left just over a month ago, and I am seeking to come to terms with my prospects, whilst also recovering from this attack on me," she said.
"Most importantly, I am safe and feeling better as time goes by, but I am not yet strong enough to give a full interview to the media, as I one day hope to do. Until that time, I want to stress that no one speaks for me, or for my father, but ourselves."
The Skripals' poisoning provoked a diplomatic crisis between Russia and the UK, as well as other Western governments, resulting in the expulsion of more than 150 diplomats on each side.
The Russian embassy in London cast doubt on the authenticity of Yulia Skripal's statement, saying it indicates the UK's "forcible isolation of the Russian citizen".
"If everything mentioned there is true we cannot but congratulate our compatriot. However, with no possibility to verify it, the publication by the Metropolitan Police raises new questions rather than gives answers," it said.
"As before, we would like to make sure that the statement really belongs to Yulia. So far, we doubt it much. The text has been composed in a special way so as to support official statements made by British authorities and at the same time to exclude every possibility of Yulia's contacts with the outer world – consuls, journalists and even relatives."
It expressed surprise that she had access to friends and family.
"Not a single friend or relative quoted by Russian or British media confirms such contacts," it said, noting that "as far we know" their closest relatives are her cousin Victoria and their grandmother Elena, who live together.
"A question arises: what family is Yulia in contact with?"
Last week Russian state TV played what it claimed was a recording of a phone conversation between Yulia and her cousin, in which Yulia is quoted as saying "everyone is recovering and alive".
"We have also noticed the apparent contradiction between the phone conversation in which Yulia says to Victoria that "everything is fine" with her and her father, and their health condition as described in today's Met Police statement," the embassy added.