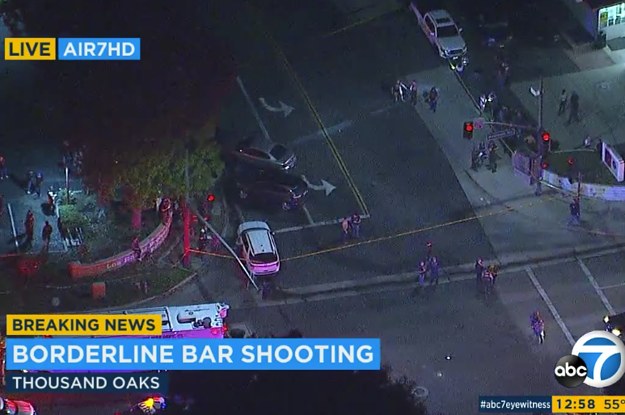 Ambulances were called to the scene of a "mass casualty incident" at the Borderline Bar & Grill in Thousand Oaks.

[tracker]
Multiple people have been killed in a shooting at a country music bar in Thousand Oaks, California, authorities said Wednesday night. At least 11 people were injured, including a deputy sheriff.
Ambulances were called to the scene of a "mass casualty incident" at the city's Borderline Bar & Grill country bar, the Ventura County Fire Department confirmed just before midnight PST.
Ventura County Sheriff Sgt Eric Buschow said that there were "multiple fatalities," but did not confirm how many. The shooter is dead inside the building, he said.
Captain Garo Kuredjian told reporters just before 1:30 a.m. that at least 11 people had been injured, but that the number could change. A deputy sheriff was among them.
The bar, which claims to have the "biggest dance floor in town", held its weekly college country night for students Wednesday night, according to its website. Students from California Lutheran University, Pepperdine University and California State University Channel Islands were in attendance.
"They were just young people, like 18, 19, 20, just having a great time, then this maniac came in and started shooting people for no reason at all. These people have never hurt anybody in their lives. They're kids, they're just kids, I'm sorry," an eyewitness told KABC-TV.
"It was constant, until he changed clips, then there was a pause… Then he kept on going… He kept on popping 'em off and I waited for my son, he didn't follow me like I asked him to, so I was running back to get him… I just got him out of there, she would have never forgiven me if if he would have got hurt or died."
Footage showed people running across the street from the scene.
"He just kept firing. I ran out the front door. I hear chairs being thrown out the window, people were trying to get out the window," another witness told ABC7.
"The gunman went behind the cash register. There [were] probably 12 shots before I got out the front door,"
Thousand Oaks, the second-largest city in Ventura County, is about 40 miles north of Downtown Los Angeles.
– This is a developing story. Check back for updates.