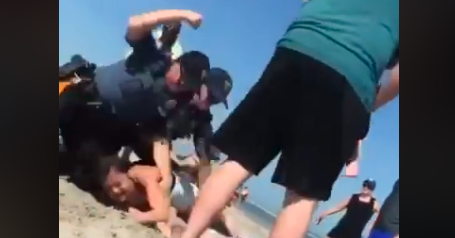 The woman in the video is seen being restrained on the ground as the officer strikes her twice in the head.

[tracker]
A video posted to Facebook on Saturday appears to show a police officer punching a woman in the head at a beach in New Jersey.
The video begins with an officer attempting to pin the woman to the ground, where he can then be seen punching the woman's head twice before he grabs her around the neck and puts her on her back. Another police officer can be seen arriving to help subdue the woman as beachgoers watching can be heard shouting "stop resisting."
According to NJ.com, the incident took place in Wildwood at around 4pm on Saturday.
Emily Weinman posted the video, which was originally on Twitter, to Facebook, claiming to be the woman being arrested.
Weinman claims she was on the beach with her friend, her daughter and her daughter's father when two police officers approached her and her friend and asked their age. She claims after being given a breathalyzer test, she asked the officers if they didn't have "something better to do as cops than to stop people for underage drinking on the beach." The police officer, she wrote, wanted to issue her a citation and asked for her name, which she did not give.
At that point, Weinman claims, the officer said he's arresting her. While backing away from the police officer, Weinman says she "tripped and fell and the cop tackled me to the ground and smashed my head into the sand. At that point I blacked out and fought any way possible trying to get up and push him off me."
"Thats when he head locked me me by his arm around my neck, punched on me in my head and then he head locked me again but this time choking me, I was gasping for (air). Yes, i know I should've gave him my name.. I was partly wrong in a way but I was scared," she wrote.
BuzzFeed News reached out to Weinman and the The Wildwood Police Department for comment. The Wildwood Police Department told NJ.com that no one would be available to comment until after the holiday weekend.
Talal Ansari is a reporter for BuzzFeed News and is based in New York. His secure PGP fingerprint is 4FEE 894C 8088 7E08 E170 A515 2801 7CC6 95D3 11C2
Contact Talal Ansari at [email protected]
Got a confidential tip? Submit it here.