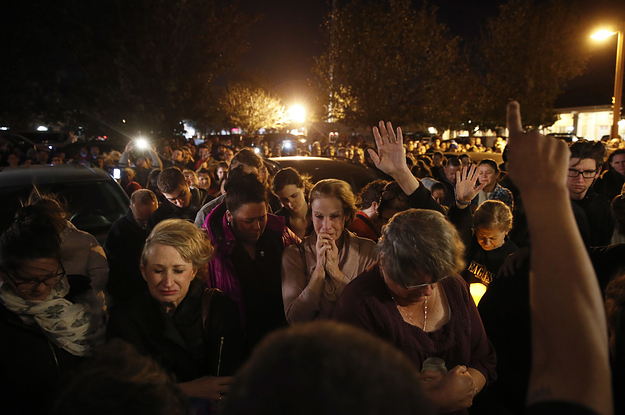 "This was a place that was sacred to us," a dance instructor said. "That's why this is such an absolute violation."

[tracker]
"This was a place that was sacred to us," a dance instructor said. "That's why this is such an absolute violation."
By
Salvador Hernandez and
Brianna Sacks
Reporting From
Thousand Oaks, California
Reporting From
Thousand Oaks, California
Posted on November 9, 2018, at 6:02 a.m. ET
Jae C. Hong / AP
People gather outside the Rivalry Roasters coffee shop for a vigil for Sean Adler in Simi Valley, Calif.
THOUSAND OAKS, California — It sounded like a loud balloon popping, but when Jordan Toll, 19, realized it was the sound of gunfire, he scrambled to the nearest door.
"Somebody yelled to run, and I ran toward the stage," he told BuzzFeed News.
Toll and a handful of others on the dance floor ran, then dropped and crawled on all fours, to the closest exit. There was little time for anything else as a gunman dressed in black unloaded a magazine of bullets inside the Borderline Bar and Grill Wednesday night. After escaping the shooter's rampage to safety, Toll realized he didn't know who had made it out alive.
Like many in Thousand Oaks, Borderline was a regular hangout for Toll, a place where even if he didn't know the names of all the regulars, he remembered their faces.
Hours later, when he arrived at the crowded Fred Kavli Theatre where a vigil was held for the 12 lives taken in the massacre, he scanned the crowd, looking for familiar faces.
"I wanted to see every face, and make sure they were alive," he said. "It was just a relief to see so many people made it."
Tucked to the side of the 101 Freeway, the country music bar and dancing venue might be one of a dozen places for people to gather in the area, but for those in Thousand Oaks and the surrounding colleges it had become a destination for people young and old to hang out, shoot pool, or have a drink near the large, wooden dance floor.
"Borderline is a community," Toll said. "For me, every Wednesday it was like seeing all the family."
On Thursday night, more than 1,800 people packed into a theater not far from the scene of the tragedy to remember the victims of the latest mass shooting to devastate the nation.
"This is a close knit community," Al Adam said, referring to Newbury Park, a small community within Thousand Oaks where he serves as a councilmember. "We might have 30,000 residents, but we see ourselves as a small town."
Adam had just been at Borderline a week ago, a place which had become over more than 20 years, a sort of community living room.
"It's a community gathering place and it's so sad we were subjected to this act," Adam said. "Never in my wildest dreams I thought we would deal with this today."
Brianna Sacks / BuzzFeed News
Shannon Martin, left, and Taela Heath show the X's still on their hands from their admission to the bar.
Down the road at California Lutheran University, Shannon Martin and Taela Heath sat tucked into a long booth at their campus coffee shop, fielding incessant phone calls and text messages from worried friends, parents, and boyfriends, and rubbing their glazed eyes.
They kept repeating the question ringing in the minds of almost everyone: "Why Borderline? Why that bar?"
"You don't get it," Martin said. "Borderline is our home."
Martin and Heath had been out on the patio with four other friends when the distinct sound of popping gunfire cut through the blaring country music. They hit the wooden floor immediately, they recalled, before hurling themselves over a brick wall, fence, and down a dirt hill, sprinting until they reached their car and were able to peel away, back to campus.
"We all weren't leaving each other. I knew that for a fact," Martin said, pulling up a selfie the two had taken in the bathroom mirror about 30 minutes before the shooting started.
Still with X's on their hands, which marked that they were under 21, the juniors said that there were "at least 100 college kids" there that night.
Pepperdine, another university in the area, which confirmed that one of its students died in the attack, regularly bussed students to the bar. Both campuses are usually quiet and they are dry, so when students want to socialize, let loose, and hang with a lot of friends, Borderline is the place to go.
"Everyone literally knows everyone, as cliche as that sounds," Heath said.
The two remembered Justin Meek, one of the victims who worked as a bouncer and promoter for the bar, and who was just as often seen on the dance floor, two-stepping to the drawling country music.
Dancing was one of the best, most treasured aspects of Borderline, they said.
"We all came with our friends from our schools but once you were on the dance floor everyone just danced with everyone," Heath said. "Borderline was home. I am just devastated."
Salvador Hernandez / BuzzFeed News
Cliff Housego, a DJ and a dance instructor, has taught swing dancing at at the Borderline Bar and Grill for 25 years. Throughout the decades, he's seen people meet in the bar, dance as a couple, and later return as married couples.
"This was a place that was sacred to us," Housego said. "That's why this is such an absolute violation."
The bar was one of the few places that Housego saw young and older patrons socializing together, drinking and dancing to country music.
"I see some of the people at Borderline more [often] than some family members," Kathy Housego, his wife, said.
The pair headed to the vigil Thursday night wearing their denim Borderline logo jackets to support a place they said had been the true town center, and remember those who died inside.
Cliff Housego said he can't see himself returning to Borderline, leading dance classes like he's done for so many years. The thought of walking back in, he said, hadn't yet crossed his mind.
"I feel like there's too much grief to figure out how to move forward still," he said.
For now, he's prefer to remember his memories there, the faces of the regulars, and looking for them in the crowd to share with those he's seen so many times in the dance floor.
"The more we talk, the more we cry, the more we share that grief with one another," he said, "then the faster we might heal."